Overview
RAF was founded to create opportunities for the marginalised and underserved people to improve their quality of life so that they may lead fulfilling lives with dignity, peace and security of rights. Since its inception, RAF has touched the lives of over 1 million beneficiaries across Asia and Africa through its inter-sectoral as well as humanitarian response programmes.
In its 1st year, it invested significantly in children's pre-primary (ECD) and primary education through the construction of centres, school blocks, model school sanitation facilities, and nutritious meal initiatives. Besides, it worked for improving the healthcare delivery in geographies with low per capita income and less disposable income by funding programme for healthcare that strengthens the public healthcare system and community water and sanitation practices as well as, worked in synergy with other agencies for organising detection camps for a range of diseases followed by advanced surgeries, medical consultations for patients suffering from renal and cardiac diseases and extended support to dialysis centres for the poor.
Thereafter, the spread and depth of interventions have further gained strength year after year. In urban Bihar, India, RAF's grant support translated into 7,82,000 benefits for slum communities for accessing various Government schemes and entitlements and consequentially, benefited the entire delivery system, as well as, proved a viable business for Common Service Centre entrepreneurs with an increase in average income from INR 9767 to INR 32,876. In Gujarat, India RAF has worked closely on an integrated village development programme, committing to a multi-sectoral and long-term engagement with communities and institutions. In Bangladesh, RAF worked with the youth leadership centre to strengthen employability as well as supported Voluntary Civil Society Leaders (VCSLs) to bring around over 28,000 people into social safety net schemes.
In Maputo, Mozambique, RAF's vocational training centre – Centre of Aspiration for Youth in Mozambique (CAYM) successfully trained 4 batches of students in various trades with the aid of proper curriculum, tied up with specialised agencies for placement and has benefited over 5000 youth. In the Democratic Republic of Congo, RAF is transforming the lives of people in 13 municipalities of Kinshasa through multi-sectoral interventions that have benefitted over 56,000 people. Through its Water, Sanitation and Hygiene (WASH) programme across geographies, RAF contributes towards the prevention of Neglected Tropical Diseases (NTDs), builds boreholes, water tanks, and latrines in the under-resourced settings, creates awareness among school children on hand-washing practices and menstrual hygiene (for adolescent girls), and sets up safe drinking water facilities and toilets in schools. These interventions along with emergency relief work such as deepening of lake in rural India during prolonged drought have positively impacted no less than 1,00,000 people.
More recently, during the Covid-19 pandemic, RAF Mozambique and India have proactively supported the public health centres and local level Government administration with medical consumables and life-saving equipments such as oxygen cylinders and concentrators while RAF DRC reached out to communities to promote safe practices. RAF India also set up a 100 bed Covid care centre in the district town of Jaisalmer, India based on local needs and responding to the dearth of services.
In all its interventions, RAF endeavors to assess impact i.e what changes have been experienced by people in its project areas and how RAF's work has contributed to these changes. At RAF, we understand that synergies with different institutions, organisations, and development actors are critical for building momentum for lasting change. There is also an external environment-global, national, and local level factor that influences a project and may lead to intended and unintended results, either positive or negative. RAF endeavors to engage with the global, national and local leaders, policy-makers, and influencers to inform them as well as gain perspective to strengthen its work with communities.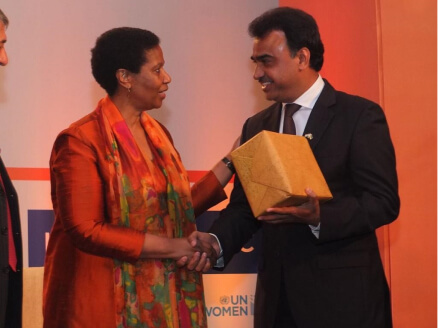 Founder & Chairman with UN Under-Secretary General & Executive Director of UN Women,
Ms Phumzile Mlambo-Ngcuka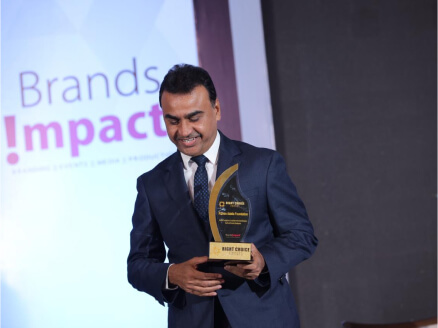 Founder & Chairman receiving the Right Choice Award, 2019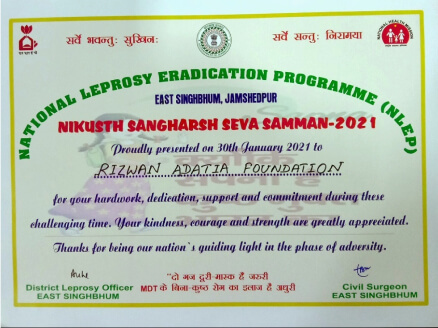 Recognition of RAF's work in the field of leprosy eradication.